SYDMOB #13 Sunday, 21 March 2004 - Approx participant count: 30-45
Emailed Instructions


SYDMOB #13

On the Morning of Sunday 21st March, you should have already synchronized your watch to the time of the Telstra clock, available by calling 1194

*By 11:15 am you should be in Sydney CBD, make your way to the Rocks area

*By 11:30 am you should be making your way to the end of Argyle St & Circular Quay (UBDô page no. 256 grid D4)

*The Mob Rep will be only present between 11:30am and 12:15 pm*

Look for an individual who is wearing a Rasta Hat,and holding a silver folder, once found, approach and
Ask this question: "Polly want a spanking?"
Script Instructions
SYDMOB #13

Mob Length: 2-3 minutes (near site 12:25 converge & act @ 12:30pm, disperse @ 12:35pm)
Mob site: Cnr of George & Alfred Streets the Rocks.

At 12:30, a mob rep will appear, wearing the Rasta Hat. When this person sits in a Lotus position , join them - sit (Cross legged, or kneeling or whatever suits you) as close as reasonably possible to each other in lines facing George St. When the Reps starts chanting "Ommm", join in with you best meditating chant. This will go on for around a minute. When the Rep stands up, stop chanting and stand, form a circle and join hands.....Count silently to five then Sing with your loudest and proudest voice.....1 chorus of "We are happy little Vegemites..."

We are happy little vegemite, as bright as bright can be.
We all enjoy our vegemite for Breakfast, Lunch and Tea.
Our mummy says were grow stronger with every single meal.

We all ENJOY our vegemite
We all LOVE our Vegemite

It puts a rose on every cheek.

Disperse

Once read and memorised, hide this slip from view. Do not throw into a public bin.
MOB IMAGES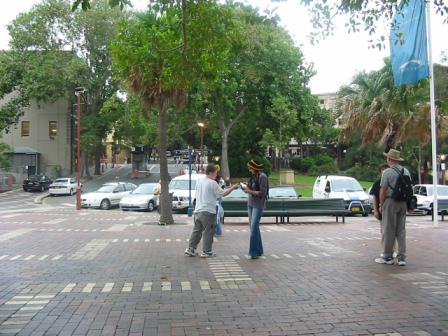 He looks like he wants a spanking !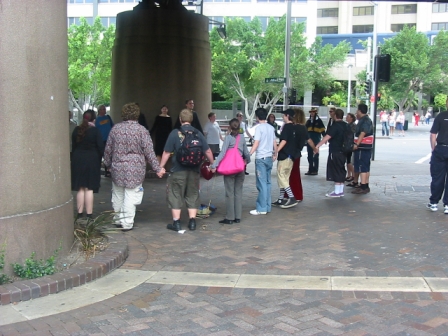 What a happy bunch of Vegemites
This was not actually what we had planned for this event, but was rather our backup plan if the weather was not kind to us. When it came time to decide before we had to start handing out scripts we had to make a call, and went for the wet option, but as fate turned out it stayed dry from that moment on !
This was a very cute event, but we really lacked any great numbers in the way of audience, with only a dozen or so passes by catching us in the act. But those who did pass by were trying very hard not actually see us, unfortunately with one group they had a child who did not realise you should pretend not to see strange acts. Much to his parents distress, he was heard to say "Look daddy, what are they doing ?", but they quickly let him in on the strange adult and replied "Ignore them, just pretend they are not there".
So we ommed away, which seemed rather therapeutic at the time, then on queue we jumped into a rather vocal chorus of the Vegemite song, then into the disperse. It was short and sweet, with grins on ya faces when we were singing.
And we still have the original idea up our sleeves !